Een slaapzak komt nooit alleen
Een slaapzak komt nooit alleen
Bij de aankoop van een slaapzak merk je al snel dat heel wat specificaties er op gericht zijn om je een idee te geven van de temperaturen waarbij hij het best tot zijn recht komt. Toch is een lekker warme slaapzak slechts een onderdeel van een groter geheel, voor wie comfortabel wil slapen in een tent. Wie zich wil beschermen tegen wisselende temperaturen en koude nachten, doet dan ook best beroep op de volledige heilige drievuldigheid: slaapzak, slaapmat én liner. Een geheel waarnaar we liefst verwijzen als een slaapsysteem.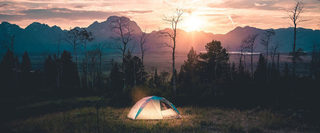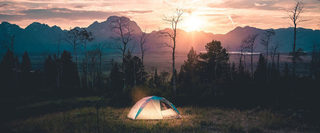 Want of je nu een slaapzak met synthetisch materiaal of zelfs dons in huis haalt, het probleem is dat je het isolerend materiaal ervan met je lichaamsgewicht platdrukt wanneer je in je tent ligt, waardoor het nooit ten volle zijn ding kan doen. Dat maakt dat je het zelfs in de best isolerende slaapzak ter wereld toch koud zult hebben als je geen matje gebruikt.

Wist-je-datje: Ontzeg jezelf niet te veel comfort en neem een lichtgewicht hoofdkussen mee. Nemo Equipment heeft er bijvoorbeeld hele goeie.

Welk slaapmatje dat dan precies moet zijn? Dat hangt volledig af van het seizoen en klimaat waarin je wil gaan kamperen. Algemeen geldt: hoe kouder de buitentemperatuur, hoe hoger de R-waarde van je slaapmatje moet zijn. R staat immers voor 'Thermal Resistance' en bepaalt dus hoeveel warmte de mat weet vast te houden.
Dan rest er je alleen nog de keuze tussen een Neoair-matras – die je zelf moet opblazen – of een zelfopblaasbare matras. Het grootste voordeel van die eerste optie zit hem in het lichtgewicht karakter van de Neoair, wat hem geschikter maakt voor backpackers.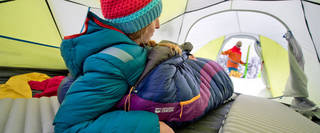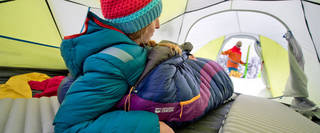 De voordelen van de liner zijn legio en toch zijn er nog steeds een heleboel mensen die niet van het bestaan van een lakenzak afweten. Heb je een weinig hygiënische slaapplek uitgezocht? Geen nood, leg een liner in je slaapzak en je materiaal is beschermd tegen allerhande vuiligheid. Je slaapzak zal langer meegaan én het volstaat om de liner even uit te wassen om weer verder te kunnen. Maar niet alleen de hygiëne en de duurzaamheid van je materiaal varen wel bij een liner, ook de koukleum in jou kan er als winnaar uitkomen. Er bestaan immers ook specifieke 'temperature liners' die het temperatuurbereik van je slaapzak verhogen.

Denk in functie van je tent

Staat je slaapsysteem – slaapzak, matje en liner, eventueel aangevuld met een hoofdkussen – op punt? Dan is het tijd voor de integratie van dat slaapsysteem in het grotere geheel. Handig om weten is dat je in een lichtgewicht tweepersoonstent niets bent met de standaard rechthoekige slaapmatjes. Voor dat soort compacte tenten heb je een uitgesneden of voorgevormd matje nodig. Slaap je met z'n tweeën in een ruimere familietent, dan heb je wel genoeg plaats voor rechthoekige slaapmatjes.

Wist-je-datje: Het volstaat niet dat je een supergoeie slaapzak koopt. Ook het onderhoud is van belang als je wil dat de loft van het isolerend materiaal zo lang mogelijk behouden blijft. Down wash direct is al vele jaren het ideale onderhoudsproduct om dat te garanderen.

Zo mogelijk nog belangrijker dan het klassieke onderhoud van je slaapzak, is het verluchten van je slaapzak. Onderweg heb je daar niet altijd tijd voor. En daar hebben de ontwikkelaars van de Sea To Summit E-vent handig op ingespeeld. Want wie wil er nu geen waterdichte, lichtgewicht compressiezak die voorzien is van een ademend membraan? Dankzij dat membraan zorgt de E-vent er immers voor dat je slaapzak ook onderweg prima kan ademen. Al kan even uitwaaien aan een waslijn ook wonderen doen. Gewoon je slaapzak elke ochtend verluchten en hij kan er weer tegen.

 Wist-je-datje: Zit de vakantie er op en berg je je kampeermateriaal weer voor een jaartje op? Weet dan dat je er goed aan doet om je slaapzak niet in de compressiezak te laten zitten, maar wel in een luchtige meshzak.