De ongeschreven wildkampeerregels
De ongeschreven wildkampeerregels
Met een beetje denkwerk en goede wil kun je tijdens je kampeer- of trekkingvakantie eenvoudig aanvaringen vermijden met de locals – en daarmee bedoelen we zowel dieren als mensen. En daarnaast wil je natuurlijk ook met de lokale flora respecteren, net als de wetgeving van je gastland. Met dit handig overzicht voor wildkampeerders weet je meteen waar je aan toe bent.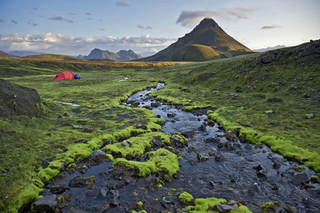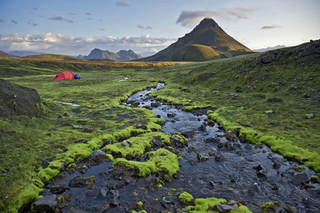 Vraag altijd toestemming aan de grondeigenaar (of probeer dit tenminste) wanneer je privaat terrein betreedt. Zo krijg je gemakkelijker een positief antwoord en wapen je je tegen vervelende discussies achteraf.


Laat je kampeerplek steeds proper achter en neem je afval weer mee naar huis.


Maak zo weinig mogelijk lawaai. Praat rustig, zet je gsm op stil en laat de radio uit. Zet je tent pas op wanneer het donker wordt en pak zo vroeg mogelijk weer in.


Stook alleen een vuurtje in een goed afgebakende vuurplaats en doof het vakkundig wanneer je gaat slapen. Alternatieven? Gebruik een klein brandertje gebruiken, of kruip 's nachts gewoon wat dichter tegen elkaar aan.


Doe je behoeften in een kuiltje dat je nadien vakkundig met zand bedekt. Oh, en neem je eigen wc-papier mee.
Wildkamperen, waar mag dat zoal?

België: verboden, tenzij je toestemming krijgt van de boswachter of de eigenaar van het stuk grond. Een paalkampeerplaats is ook een optie.
Nederland: verboden. Paalkamperen is het alternatief.
Finland, Noorwegen en Zweden: hier geldt het allemansrecht. Je mag andermans grond betreden om er van de vrije natuur te genieten, al zijn ook hier een aantal specifieke aandachtspunten van toepassing.
Zwitserland: Wildkamperen is toegestaan voor één nacht, behalve in natuurreservaten en natuurparken.
Schotland: toegestaan voor één nacht.
IJsland: toegestaan om te wildkamperen in onbewoonde gebieden.
Groot-Brittannië: In Wales en Engeland is wildkamperen officieel verboden, al bestaan er enkele uitzonderingen. In Schotland heeft iedereen toegang tot het grootste deel van de natuur en de binnenlandse wateren.
Frankrijk: officieel verboden, maar bivakkeren is op de meeste plaatsen wel toegestaan.
Italië: verboden, tenzij je toestemming hebt van de lokale politie. In Parco Nazionale di Alpi Maritimi is kamperen toegelaten van 19 tot 9u. Bivakkeren wordt boven de 2.000 meter steevast toegestaan.
Turkije: toegelaten.
Duitsland: verboden zonder toestemming. Nationale parken zijn sowieso een no go, maar voor andere gebieden kun je wel proberen om toestemming te krijgen.
Estland: toegestaan.
Griekenland: officieel verboden, maar wildkamperen wordt wel gedoogd.
Letland: toegestaan.
Spanje: toegestaan in Catalonië. In Aragon mag wildkamperen dan weer alleen in de nabijheid van een bron. Op alle andere plaatsen is toestemming vragen de way to go.
Kroatië: verboden. Toestemming vragen is de enige optie.
Litouwen: toegestaan.
Luxemburg: verboden.
Ierland: officieel verboden, maar het wordt vaak oogluikend toegelaten.
TIP: De wetgeving op wildkamperen kan per regio verschillen en durft al eens aangepast of bijgeschaafd te worden. Win vooraf dus zekere even informatie in bij de lokale toeristische dienst of de parkwachter.