De 4 beste kampvuuradresjes
De vier beste kampvuuradresjes

Niets zo gezellig en outdoorsie als een knetterend kampvuur. Voeg er een gitaarspelende nonkel en een portie marshmallows aan toe en je hebt gezelligheid in het kwadraat. In (een van) deze vier adresjes beleeft junior gegarandeerd de tijd van zijn leven en herbeleef jij de betere momenten van die al (te) lang vervlogen scoutstijden.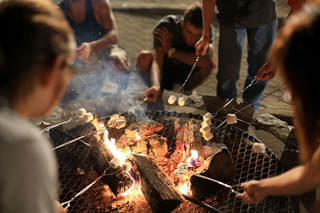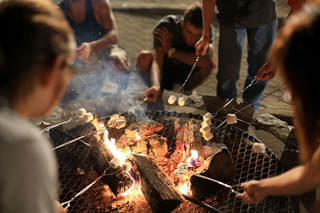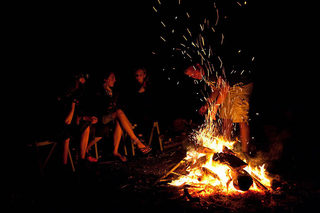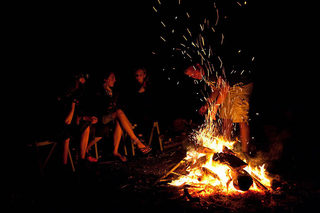 Wandelen, kanoën, mountainbiken en paardrijden, het kan allemaal in Mousny. Maar meer nog dan de ideale vertrekplaats voor tal van avontuurlijke tochten, is Le Mousny 106 – tussen Houffalize en Rochefort – de perfecte kampvuurplek voor jong en oud. Al zal vooral de iets meer gezapige avonturier wat voelen voor de afwisseling van glooiende velden – ideaal voor lange wandelingen – en een bos vol dierenpracht. Vuursalamanders, uilen of bevers, het behoort allemaal tot de mogelijkheden. In een ietwat feeëriek kader sprookjesachtige verhalen vertellen aan de allerjongsten? En later op de avond elkaar de daver op het lijf jagen met de betere horror verhalen – als de kids gaan slapen zijn, that is.
Kampvuurweetje: Het fijne, droge materiaal dat je nodig hebt om een vuurtje te maken – denk houtkrullen, mos, dennennaald en kleine takjes – noemen we tondel.
Op landgoed Het Oostermaet in Okkenbroek (nabij Deventer, tussen Doetinchem en Zwolle) heb je de keuze uit drie prachtige landhuizen die plaats bieden aan zestien nostalgische outdoorliefhebbers. Geen betere uitvalsbasis dan een voormalig jachthuis om het kampvuur aan te steken, toch? Het nabijgelegen bos is de ideale plek om met de kids wat hout te sprokkelen. Of hoe de pret eigenlijk al begint nog voor het kampvuur aangestoken is. Sta even stil bij de schoonheid van de natuur, neem nog eens de tijd om een goed boek te lezen of doe jezelf een plezier met een deugddoende wandeling. Een gezellig weekendje weg met het gezin of zin om met een enthousiaste vriendenbende weer in touch met Moeder Natuur te komen? Dan is Landgoed Het Oostermaet de place to be.

Kampvuurweetje: Check altijd eerst even of er geen overhangende takken boven je kampvuur (in spe) hangen.

Combineer je je kampvuuractiviteiten liever met een leven als moderne indiaan? Dan trek je maar beter naar het Veluwemeer, vlakbij Harderwijk – tussen Zwolle en Amersfoort. Op het met tipi's en yurts bezette mini-eiland waan je je al snel deel van een heus nomadenvolk. Meer goed nieuws? Het eiland is gemaakt om al sportend rond te trekken, waterspelletjes te spelen en 's avonds tot rust te komen aan het kampvuur. Een versgevangen visje boven het vuur? Het kan allemaal.  
Kampvuurweetje: Je laat een vuur nooit onbemand achter en dooft het bij vertrek door te blussen met (voldoende!) water en af te dekken met aarde.
Bij Ons in Groesbeek wordt kamperen haast verheven tot een aparte levensstijl. Zo allesomvattend is de accommodatie, zo overvloedig zijn de mogelijkheden. Groener vind je de kampeerplekken niet meer. En naar mooiere vergezichten – het zicht op natuurgebied het Slumke is echt prachtig – is het ook even zoeken. Overnachten kan in – en hou je nu even vast aan de takken van de (eveneens overvloedig aanwezige) bomen – de dome, de jachthut, de huiskar, de tipi, de huiswagen, de veldwagen, ons tentje en ons huisje. Elke plek heeft zo z'n eigen karakter, elke plek z'n eigen sfeer. Lig je graag wat te luieren in de hangmat? Dat kan. Spelen de kids graag wat in de nabijgelegen Groesbeek? Perfect mogelijk. Geniet je 's avonds graag van een reuzegezellig kampvuur? Dan zal de grote vuurschaal op het pleintje jou vast plezieren. Alleen voor de gitaardeuntjes moet je zelf zorgen. 
Kampvuurweetje: Als de ondergrond te nat is om een kampvuur aan te maken, bouw je best eerst een platform met daarop wat aarde. Zo bevorder je tegelijkertijd de ventilatie van je vuur.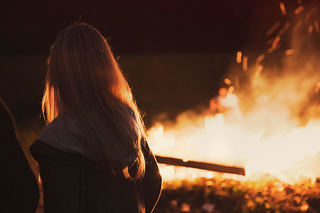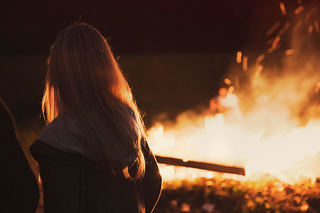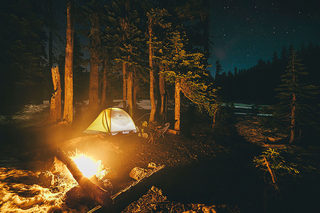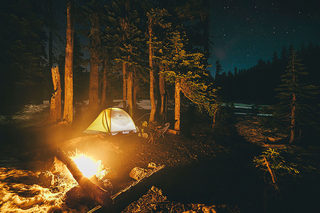 Hoe maak je zo'n kampvuur?

Doe de wigwam. De wig-wat? De wigwam-techniek is veruit de gemakkelijkste methode om vuur te maken.
Je verzamelt gewoon genoeg hout van verschillende diktes.
Je bakent je vuurplek af met stenen en plaatst vervolgens enkele dunne twijgjes wigwam-gewijs tegen elkaar.
Leg een pluk tondel in het midden, steek die in brand en blaas het vuur zachtjes verder aan.
Branden de twijgjes goed? Bouw het kampvuur dan verder op met steeds dikkere takken.
Lees ook: Zo bouw je een kampvuur
Geen kampvuur zonder enkele klassieke meezingers. Wij haalden de zeven grootste kampvuurhits van onder het stof.
Heb je onlangs zelf genoten van een kampvuur moment? Maak ons deelgenoot van de knetterende magie en deel je mooiste kampvuurfoto op onze Facebook-fanpagina of op Twitter en Instagram met de hashtag #ASADVENTURE.