Ben jij koud- of warmbloedig?
Ben jij koud- of warmbloedig?
De ene zweet zich te pletter in een nauw aansluitende slaapzak, de andere kan zich maar niet genoeg induffelen. Of iemand het koud of warm heeft, verschilt sterk van persoon tot persoon. Ken jezelf en je slaapzak!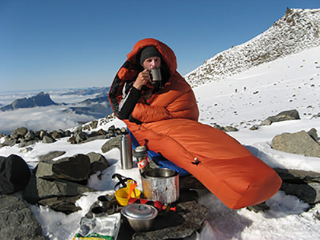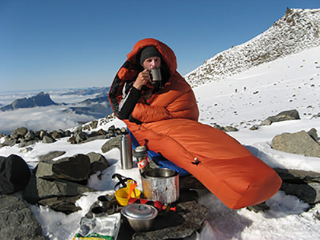 Een graadje meer of minder
Het temperatuurbereik van een slaapzak wordt steeds weergegeven in drie categorieën:
De comforttemperatuur duidt de buitentemperatuur aan waarbij zelfs koukleumen

het in de slaapzak toch

gezellig

warm hebben. Eigenlijk is dit de ideale

temperatuur

voor een

vrouw van 38 jaar

in

normale

conditie, bij lage lichaamstemperatuur en na een hele dag in de kou gezeten te hebben.
De limiettemperatuur biedt hetzelfde comfort aan een man in gelijke omstandigheden of voor mensen die de koude van nature beter kunnen verdragen.
De extreme temperatuur gaat nog een stap verder en bepaalt de absolute koudelimiet waarbij je de slaapzak in theorie kunt gebruiken. Let wel, erg comfortabel slapen zit er niet in. Onder deze extreme temperatuur wordt de kans op onderkoeling reëel.


Doorgaans hebben vrouwen het sneller koud dan mannen, daarom kiezen ze best voor een slaapzak die tot 5 à 10°C warmer is dan mannen bij dezelfde condities. De gevoelstemperatuur in de slaapzak hangt ook af van je metabolisme, je lichaamsvet, de hoeveelheid voedsel dat je gegeten hebt en de omgevingsomstandigheden zoals wind of vochtigheid.
Extra tips:

De aangegeven temperaturen zijn alleen van toepassing in combinatie met een isolerende slaapmat.
Om het temperatuurbereik van je slaapzak te verhogen kan je deze met een fleece, zijden of katoenen lakenzak combineren.