Zo ziet jouw ideale mountainbike eruit
Zo ziet jouw ideale mountainbike eruit

Wat voor de één geldt als ideale mountainbike, is voor een ander van het goeie te veel of misschien wel te weinig. Waar je ook naar op zoek bent, het helpt dat je de mogelijkheden kent voor je een nieuwe fiets koopt. Zoek je een snelle 29'er, een speelse 27,5'er of een zogenaamde Plus Size MTB met hele brede banden? Of wil je liefst een zo trendy mogelijke mountainbike waarop alle nieuwe trends verenigd worden? Opties te over en voor één keer is kiezen niet verliezen.

Nu worden wij Belgen doorgaans niet echt bij de 'early adopters' gerekend wat mountainbiketrends betreft, maar de twee grote nieuwigheden die wereldwijd spelen, zijn ook in ons vlakke landje al doorgedrongen. De eerste is het verdwijnen van de drie voorbladen. De voornaamste reden daarvoor is de uitbreiding van de achterste tandwielen van zeven naar elf. Twee tandwielen vooraan en elf achteraan geeft nog steeds 22 opties, daar waar je vroeger over 21 (3x7) verschillende versnellingen beschikte.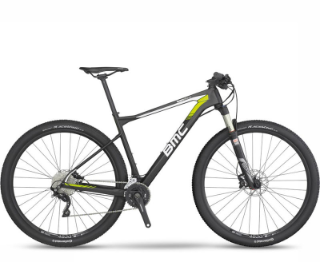 Bijkomende verandering is het steeds groter wordende aanbod mountainbikes uit carbon. Zo vind je bij Cube al een carbon MTB aan instapprijs. Met die nuance dat dat carbon wel danig verschilt van het carbon dat bijvoorbeeld topmerken zoals BMC en Cannondale gebruiken. High-end mountainbikes zoals de BMC Team Elite of de Cannondale Fsi komen vrijwel altijd in een carbon uitvoering. Daar waar je bij de goedkopere modellen nog steeds kunt kiezen tussen aluminium, een combinatie van beide en nu dus ook carbon.

De accessoires maken de MTB

In principe kun je elke mountainbike aanpassen aan je eigen smaak en voorkeur. De meest populaire upgrades betreffen de wielen, de versnellingsgroep en de remmen. Al zijn het vooral de toevoeging van de wielen, en eventueel een nieuwe vork, die de grootste impact hebben. Die maken je fiets immers merkelijk lichter, zorgen ervoor dat hij beter rijdt en garanderen een beter comfort en dito grip. De populairste accessoires zijn dan weer een fietscomputer, een zadeltasje, een smartphonecover en een bidonhouder.