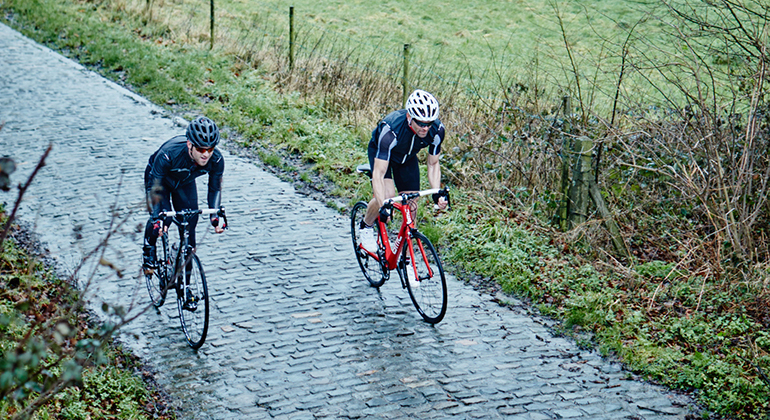 Zo onderhoud je je fiets niet!
Zo onderhoud je je fiets niet!
Dat je na die afmattende fietstocht – die moordende klim op het einde! – geen zin meer hebt om je fiets nog af te spuiten en vervolgens mooi terug in het tuinhuis te plaatsen, begrijpen wij perfect. Het goede nieuws is: dat mag ook helemaal niet. En wel hierom!

Het tuinhuis is je beste vriend

Je fiets na die plezierige tocht door de modder doodleuk in het tuinhuis gooien tussen de harken, schoppen en voorhamers? Geen geweldig plan, skippy. Zeker niet als je van plan bent om je fiets zonder kuisbeurt een week later gewoon van onder het stof te halen.
Je frame zal het best overleven, maar de draaiende onderdelen – denk ketting en tandwielen – hebben dan wel een week lang de tijd gehad om lekker te staan oxideren in het vochtig tochthok dat elk tuinhuis is.
De carwash is je beste vriend

"Weet je wat mannen? We rijden snel even langs de carwash na onze mountainbiketocht." Wat klinkt als een ludiek plan om vrouwlief flink wat kuiswerk te besparen, is eigenlijk de stille moordenaar van je geliefkoosde mountainbike.
Als je de naven, bracket, balhoofd of lagers met een hogedrukreiniger te lijf gaat, spuit je het vet ertussenuit. Vervelend, want op die plaatsen geraak je niet met het doorsnee smeersel. Wil je je fiets toch afspoelen, doe het dan met warm water, geen al te krachtige straal en vergeet de boel op het einde niet af te drogen en opnieuw te smeren.

Een stadsfiets is zo gemaakt dat ie amper onderhoud behoeft, maar dat geldt niet voor een racefiets of mountainbike. Die hebben geregeld liefde, zorg en olie nodig. Maar nu ook weer niet op elk draaiend onderdeel, natuurlijk – die olie dan toch. Teflon olie is doorgaans de beste vriend van je fiets – niet van je kledij want die vlekken krijg je er nooit meer uit – maar je velgen en remschijven hou je beter vetvrij. Je remmen moeten immers zo vetvrij mogelijk zijn voor een goede werking.
Wist-je-datje: Wist je dat een droge ketting tot vijf keer sneller slijt dan een goed gesmeerd exemplaar?

Het tuinhuis is je beste vriend (bis)

Dat een tochtig tuinhok – ode aan de fietsliefhebbers die een plekje in hun garage voorzien voor hun fiets – geen goeie plek is om je stalen ros te stallen moge duidelijk zijn. Voor de trotse bezitters van een elektrische fiets geldt dat dubbel en dik.
De reden daarvoor is dat de winterkoude de radius van je e-bike negatief beïnvloedt. De cellen van je accu reageren slecht op extreme temperaturen, wat maakt dat je minder lang op trapondersteuning zal kunnen rekenen. Fietsen in de kou kan geen kwaad, maar je accu kun je maar beter op kamertemperatuur bewaren.