Zo kies je de juiste fietshelm
Zo kies je de juiste fietshelm
Draag jij altijd een helm? Nee? Weet dat je als fietser erg kwetsbaar bent in het verkeer. Hoofdwonden zijn zelfs de belangrijkste doodsoorzaak bij fietsongevallen. Je kunt je dus maar beter beschermen met een goed passende en correct gedragen fietshelm. Met deze tips kies je het juiste exemplaar.

Aerodynamisch, superlicht of met een speels design voor kids ... Kies er een in functie van je gebruik. Plan je vaak een ritje, dan is een duurdere helm een goede investering. Wie slechts occasioneel rijdt, kan met een minder prijzig exemplaar ook beschermd de baan op.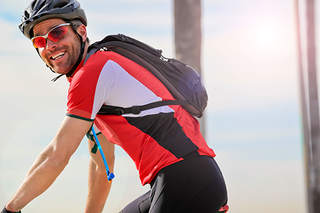 Koop altijd een nieuwe helm, dan ben je zeker dat hij 'ongevalvrij' is. Bij een val wordt de zachte binnenkant vaak ingedrukt, maar dat zie je niet altijd aan de buitenkant. De helm is in dat geval niet meer geschikt om stoten op te vangen. Vervang na een zware val steeds je helm door een nieuw exemplaar.

In een kwaliteitshelm moeten een CE-markering en het nummer van de Europese norm staan: EN 1078 voor volwassenen, EN 1080 voor kinderhelmen.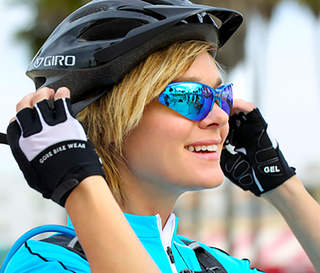 De omtrek van je hoofd komt overeen met de maat van je helm. Dit meet je op ongeveer 2,5 cm boven de wenkbrauwen. De meeste helmen variëren tussen de 47 en 58 cm. Maak je helm vast en schud je hoofd heen en weer, als hij goed blijft zitten, is de maat goed.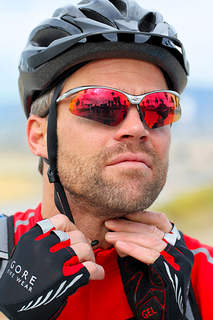 Veel bescherming, geen belemmering

Zo draag je de helm correct: zet hem recht op je hoofd; de voorkant ongeveer 2,5 cm boven de wenkbrauwen en laat hem niet naar achteren leunen.
Een helm moet niet alleen de boven-, voor - en achterkant van je hoofd beschermen, maar ook je slapen.
Hij mag je gehoor of je zicht niet belemmeren en moet goed ventileren.
Als je een bril draagt, zet die dan op bij het passen.
Het voorste bandje moet zo verticaal mogelijk lopen. Het achterste bandje komt bij het voorste bandje samen onder en niet over de oren.
Let erop dat de bandjes stevig zitten, maar niet knellen en dat de sluiting niet over je kin kan schuiven.