Wegcode voor fietsfanaten
Wegcode voor fietsfanaten
Of je het nu leuk vindt of niet: ook voor wielerfanaten gelden er verkeersregels. Fiets je in groep of liever solo? Hier zijn de do's en don'ts.

Goed nieuws voor wie in groep rijdt, want die mag het fietspad verlaten. Bij een peloton van 50 renners horen wel twee wegkapiteins. Die dragen een zwart-geel-rode armband met 'wegkapitein' en mogen het verkeer stilleggen op kruispunten zonder verkeerslichten, door gebruik te maken van het C3-verkeersbord op een stokje. Een kleiner peloton kan zonder. Voorwaarde is dat je maximaal met twee renners naast elkaar rijdt en gegroepeerd blijft.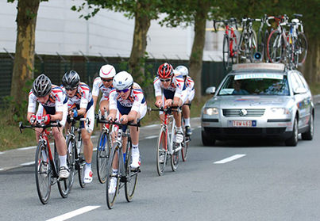 Wielertoeristen mogen zich laten begeleiden door maximaal twee wagens. De eerste rijdt 30 meter voor de groep, de tweede 30 meter erachter. Is er slechts één wagen, dan sluit die sowieso achteraan aan: de volgwagen.

Net een verschroeiende demarrage geplaatst en ontsnapt uit de groep? Helaas, wie solo rijdt, moet terug het fietspad op zoals elke fietser.

Een bel en twee remmen zijn verplicht voor elke racefiets (zonder bagagedrager, met racestuur en maximaal 2,5 centimeter banddikte). Lichten en reflectoren zijn enkel verplicht in het donker of bij slechte zichtbaarheid. Heb je spatborden om een natte kont te vermijden? Dan zijn een witte reflector vooraan en rode reflector achteraan verplicht.