Veilig met de fiets naar school
Veilig met de fiets naar school
Staan je kinderen te popelen om zelf naar school te fietsen? Kijk eerst of hun tweewieler volledig in orde is en meet ze daarna een veilige uitrusting aan.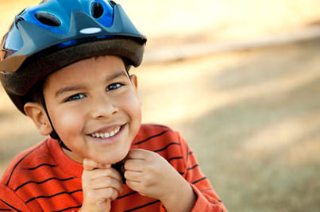 Laat je kids nooit op de fiets springen zonder een degelijke, goed passende helm. Een vuistregel: trek bij het passen de riempjes goed aan en laat ze hun hoofd heen en weer schudden. Pas de riempjes aan, wanneer de helm te veel beweegt of net te vast zit, of kies een andere maat.

Een geel of oranje fluohesje trekt goed de aandacht van andere weggebruikers. Overdag vallen de fluokleuren goed op en eenmaal het donker is, doen de reflecterende strips hun werk. Ook een oranje fietsvlaggetje laat kleine fietsers niet onopgemerkt voorbij zoeven.

Voor de jonge racers zijn er truitjes met aanpassende vorm op de markt, maar evengoed fietsshorts met een maximaal draagcomfort. Moet het allemaal niet zo professioneel zijn? Investeer dan vooral in een waterdichte regenjas- en broek. Die kunnen ze bij slecht weer gewoon over hun normale kledij aantrekken.

Naar school fietsen met verkleumde handen of voeten is geen pretje. Goede sokken, degelijke schoenen en een warm paar handschoenen of wanten zijn daarom onontbeerlijk.