Uitgetest: e-biken in Oostenrijk
Uitgetest: e-biken in Oostenrijk

E-biken enkel voor zestigplussers? Vergeet het maar. Ook jongere fietsers profiteren van de voordelen van een fiets met een 'moteurke'. Speciaal voor A.S.Magazine trokken Bart Leijnen en Ruth Devos naar Tirol en smeerden de benen in voor een rondje e-mountainbiken.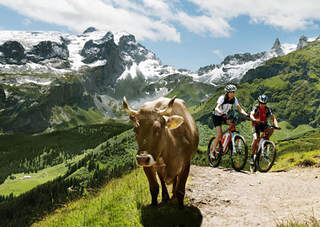 Een open geest beleeft meer, daarom schuiven we onze vooroordelen opzij en vliegen naar Innsbruck. Groot is mijn verbazing wanneer de vrouw van de fietsverhuurwinkel wat later in Langenfeld een hybride mountainbike tevoorschijn tovert. En niet zomaar eentje: schijfremmen, schokdempers, Shimano XT-versnellingen en – goed verborgen in het design – de elektrische batterij.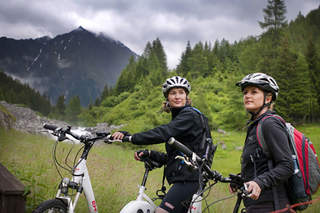 Vanuit Langenfeld rijden we naar de Ambergerhütte, 20 km verder en vooral 1.000 m hoger. In plaats van op een slakkentempo en met mijn tong op de grond de strijd met de berg aan te gaan, rijd ik nu gezwind naar boven, volop genietend van het mooie landschap. De batterij moet om mij omhoog te duwen niet zoveel energie gebruiken als bij Bart, die dubbel zo zwaar is. Voor de eerste keer in mijn leven zoef ik hem voorbij. Heerlijk!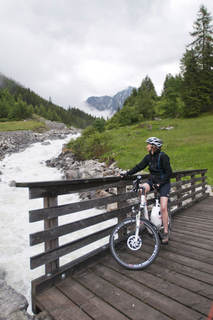 Maar het is niet altijd zo eenvoudig. Naarmate we stijgen, veranderen de asfaltwegen in onverharde tractorpaadjes. En dat vraagt voor de juiste motorstand. Gebruik je bij steile hellingen een te hoge stand, dan vliegt je voorwiel de lucht in. In een te lage stand krijg je je verzet niet meer rondgedraaid. Het resultaat is in elk geval hetzelfde: je valt op je neus. En dan kun je kiezen: een fiets van 25 kilo door het slijk omhoog duwen of opnieuw naar beneden rijden en het nog eens proberen in een andere stand. Gelukkig worden we beloond met prachtige uitzichten op woeste rotspartijen en lieflijke valleien vol koeien.

Toch is het nog even tandenbijten voor we de Ambergerhütte bereiken. Hoe hoger we stijgen, hoe steiler het wordt. Bovendien wordt het mistiger en kouder en staan we helemaal bloot aan de natuurelementen: wind op kop en miezerige regen. De fiets lijkt wel 100 kilo te wegen en ik rij al uren in eco-modus omdat ik het risico niet wil lopen helemaal zonder te vallen. Dan doemt toch onverwacht de hut voor ons op. De hemel zij geprezen en ik heb nog twee blokjes batterij over!

In België kan je op verschillende plaatsen terecht om een e-bike te testen. Je kan een e-bike huren in de Antwerpse Kempen of in de Oostkantons. Maar je kan ook terecht in een van onze A.S.Adventure Bike Stores om ons assortiment e-bikes uit te proberen.