Trotseer het weer op de fiets
Trotseer het weer op de fiets

Echte fietsfanaten schuwen de weergoden niet. Op de pedalen door besneeuwde bossen of een stevige klim onder de brandende zon, met gespecialiseerde fietskledij rij je in alle weersomstandigheden comfortabel.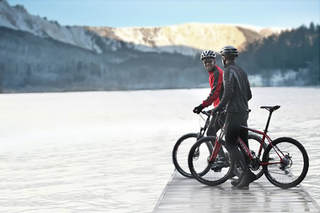 Wisselvallig weer? Denk steeds in lagen en trek een laagje aan of uit naargelang de omstandigheden.
Draag een vochtafvoerende, thermische basislaag. Zo'n shirt voert de transpiratie af naar buiten zodat er geen natte stof op je lijf plakt.
De tussenlaag, een jersey fietsshirt- of trui, zorgt voor een goede isolatie.
Als bovenlaag biedt een ademend, water- en winddicht fietsjasje – bij voorkeur één met reflecterende strepen – de nodige bescherming tegen regen en wind.
Wat rillen op de fiets kan geen kwaad. Meer zelfs: die eerste kilometers heb je het beter een beetje koud, anders krijg je het nadien veel te warm.
Wanneer het koud is maar niet hard regent, heb je voldoende aan een thermische onderlaag en een winddichte fleece of Windstopper® als buitenlaag.
Lange koersbroeken zijn er diverse diktes en materialen. Koop ze zeker niet te strak, zodat je ruimte laat voor een warm luchtlaagje.
Bespaar niet op fietssokken, aangepaste schoenen en overschoenen. Fietsen met verkleumde voeten is geen pretje.
Investeer ook in een paar wind- en waterdichte handschoenen. Zo verstevig je de greep op je stuur en ze houden je handen lekker warm.
Bij koud weer is een muts onder je fietshelm geen slecht idee. Wist je dat je maar liefst 40% van je lichaamswarmte via je hoofd verliest?
Tip: bij extreme koude of harde wind smeer je je neus, wangen en lippen best in met een beschermend product, zoals vaseline.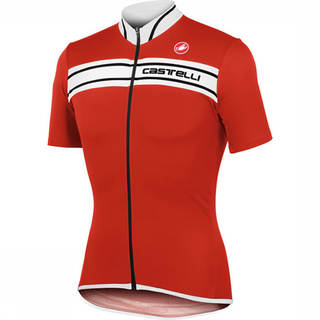 Veel wielerkledij is speciaal ontworpen om je lichaam droog, koel en fris te houden tijdens een intensieve rit onder de brandende zon. De meeste fietsbroeken- en shirts zijn sneldrogend, zorgen voor een snelle afvoer van zweet en zijn uitgerust met mesh-panelen voor een goede ventilatie. Met een fietspet en een beschermendezonnebril hou je ook je hoofd koel. En vergeet die zonnecrème niet!