Trappen zonder zweten: het e-bike-experiment
Trappen zonder zweten: het e-bike-experiment
Mensen zijn gewoontedieren. Dagelijks staan we met z'n allen aan te schuiven in ellenlange files op de autosnelweg. Of op het perron te wachten op de zoveelste trein met vertraging. Maar wat gebeurt er wanneer we de auto of het openbaar vervoer plots inruilen voor een e-bike? A.S.Adventure-medewerkers Chris en Sébastien deden de test.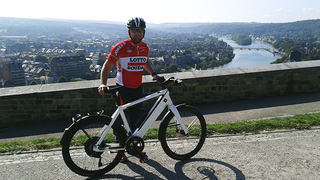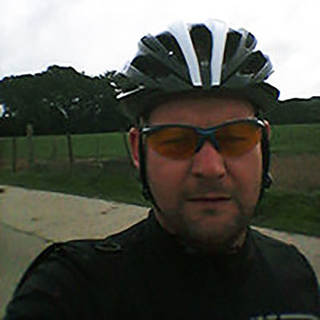 Naam: Sébastien Tittel
Leeftijd: 37 jaar
Functie: Travel-verantwoordelijke bij A.S.Adventure Waver sinds 2007
Woonplaats: Glimes (op 22 km van Waver)
Pendelt met: auto
E-bike: Stromer ST2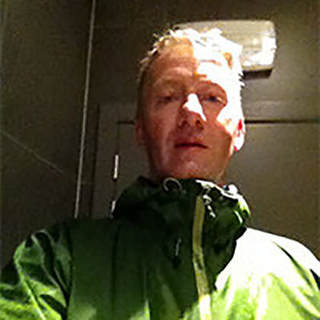 Naam: Chris Van Riel
Leeftijd: 47 jaar
Functie: B2B-manager op het A.S.Adventure-hoofdkantoor in Hoboken sinds 2010
Woonplaats: Broechem (op 22 km van Hoboken)
Pendelt met: auto
E-bike: Stromer ST1
Te ver en te lang onderweg. Geen zin om vroeger op te staan en het gezinsmomentje tijdens het ontbijt te missen. Geen aangename, groene fietspaden langs de route. Te grote investering (als het tegenvalt, is het best een dure grap).
Sébastien en Chris hadden – net als heel wat andere Belgen – veel redenen om de aanschaf van een elektrische fiets voor zich uit te schuiven. Of moeten we het 'excuses' noemen? The proof of the pudding is in the eating, dus gaven we hen elk een e-bike in bruikleen met een simpele opdracht: leg er gedurende één week je woon-werktraject mee af. En dan zullen we nog eens praten. Deal? Deal!
Dit zijn hun bevindingen na het experiment:

"Laat regen en wind maar komen!", mailt Chris ons de avond voor het e-bike-experiment van start gaat, met een foto van zijn GoreTex-regenjas, regenbroek en waterdichte fietstas. En die kon hij goed gebruiken, want op dag 1 heeft de herfst alvast zijn intrede gedaan in ons land. "Nat van de regen, maar niet van het zweet", besluit hij bij aankomst. Een belangrijk verschil met een gewone fiets natuurlijk, waarmee je bij tegenwind heel wat extra energie verbruikt. Wind tegen of wind mee? Met een e-bike zie je het verschil enkel op je snelheidsmeter.

Verdict:
Op de e-bike ben je blootgesteld aan de elementen, terwijl je in de auto warm en droog zit. Dat kan vervelend zijn bij regen, wind en koude, maar mits de juiste uitrusting kun je de weergoden prima de baas.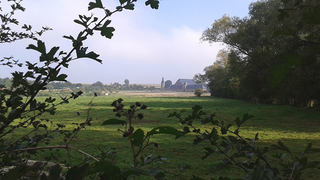 Zonder de airco en de autoradio is het even wennen aan de stilte van de vrije natuur waar je doorheen rijdt. Chris: "Je voelt de regen en de wind in je gezicht, je ruikt het natte wegdek en het gras, je ziet de zon opkomen en je hoort de vogeltjes fluiten. Dit mis ik echt als ik in de auto zit!" Leuk extraatje: je komt fris en opgewekt aan op kantoor, vol energie voor een nieuwe werkdag.

Verdict:
Op de e-bike sta je meer met contact met de natuur, zie je de seizoenen veranderen en heb je massa's tijd om te genieten en je hoofd leeg te maken. Win-win voor lichaam en geest!


Het elektrisch motortje op een e-bike kun je op twee manieren gebruiken: als duwtje in de rug wanneer je een lastige helling of een paar kilometers 'vals plat' moet overwinnen, of als permanente ondersteuning voor de hele rit. Sébastien is verkocht: "Op de voorlaatste dag trok ik alle registers open: maximum trapondersteuning op het hele parcours. Het resultaat? 21 kilometer op 31 minuten tijd, zonder pijn aan de benen."

Verdict:
Wil je het jezelf wat makkelijker maken of toch voor een iets intensievere training gaan? Met een e-bike kun je zelf kiezen wanneer en hoeveel trapondersteuning je inschakelt. Hoe dan ook ben je altijd fysiek in de weer.

Of je echt tijd wint door met de e-bike naar het werk te rijden, hangt van veel factoren af: de toestand van het fietspad, het aantal rode verkeerslichten op je route, een groener, veiliger alternatief dan 'recht-op-recht' … "Voor de tijdswinst moet ik het niet doen", zegt Chris. "Ik ben even lang onderweg als met de auto. Het verschil is dat je je in de file zit te ergeren, terwijl je op de fiets de stress van de werkdag van je af kunt laten glijden."

Verdict:
Voor een afstand van 20 à 30 kilometer zal de e-bike je niet sneller op je bestemming brengen dan de auto (tenzij er een vrachtwagen is gekanteld op de Brusselse ring), maar het gevoel dat je onderweg niet gehinderd wordt door het verkeer en de files, is veel waard.


Voor Chris was het groepsgevoel onder de tweewielige pendelaars een echte openbaring: "Die vriendelijke glimlach of dat hoofdknikje bij het passeren maakt echt het verschil. Met de fiets ben je nooit alleen! Samen de files voorbijrijden of wachten voor het rode licht … Ik had echt het gevoel dat ik deel uitmaakte van een groep." Sociale media in 't echt, kortom.

Verdict:
In de auto staart iedereen nukkig voor zich uit, zonder contact met de andere automobilisten of weggebruikers. Voor wie houdt van wat sociale interactie, is de e-bike hét vervoermiddel bij uitstek. Met een blits exemplaar mag je daar nog wat bewonderende blikken bij rekenen ook.

Onze testpiloten zijn duidelijk overtuigd van de voordelen van de e-bike. Of ze hun eigen exemplaar zullen aanschaffen? Chris: "Na deze superervaring denk ik er zeer sterk over na. Ik zal 'm missen, mijn trouwe tweewieler …"

Verdict:
In de auto staart iedereen nukkig voor zich uit, zonder contact met de andere automobilisten of weggebruikers. Voor wie houdt van wat sociale interactie, is de e-bike hét vervoermiddel bij uitstek. Met een blits exemplaar mag je daar nog wat bewonderende blikken bij rekenen ook.

Goed om weten
Wetgeving
Een elektrische fiets met trapondersteuning tot een snelheid van 25 km/u en een geleverdvermogen van max. 250 W valt volgens de Belgische wetgeving onder dezelfde noemer als een gewone fiets.
Een fietshelm is – voorlopig – niet verplicht, maar wel sterk aangeraden. Denk er ook aan dat je door je hogere snelheid gevoeliger bent voor putten en oneffenheden op de weg.
Aangezien high speed elektrische fietsen sneller dan 25 km/u ondersteunen vallen ze voor de Belgische wetgever onder de noemer bromfiets klasse B. Hieronder vind je de extra regels waarmee je rekening moet houden:

Een verplichte aansprakelijkheidsverzekering voor motorvoertuigen
Een rijbewijs A3 (bromfiets klasse B) of een rijbewijs B (auto-rijbewijs)
Een goedgekeurde helm
Steeds in het bezit zijn van een identiteitskaart, rijbewijs en verzekeringsbewijs wanneer men zich op de openbare weg verplaatst
Verplaatsen op het fietspad, tenzij er expliciet wordt aangegeven 'B verboden'

Kom je naar het werk met een elektrische fiets mét trapondersteuning, dan heb je evengoed recht op een fietsvergoeding van je werkgever.
Batterij
Als je de batterij kan verwijderen, bewaar ze dan best binnen – zeker als het buiten vriest. Dit komt de levensduur en actieradius ten goede.
Laad de batterij op wanneer ze nog tussen de 25 en 50 % capaciteit heeft, en wacht niet tot ze volledig 'platgereden' is. Zo stijft de levensduur aanzienlijk.
Prijs
Een degelijke e-bike met motor in het achterwiel of de trapas heb je al vanaf zo'n € 1.500. Wil je een 'high speed e-bike' die tot 45 km/u trapondersteuning geeft, dan reken je best op € 3.000 tot € 6.000.