Je fiets van Achterlicht tot Zadel
Je fiets van Achterlicht tot Zadel
Sta jij ook soms met je mond vol tanden wanneer je wilt uitleggen wat er nu juist mis is met je tweewieler? Dankzij dit praktische lijstje zijn die gênante momenten bij de fietsenmaker voorgoed verleden tijd!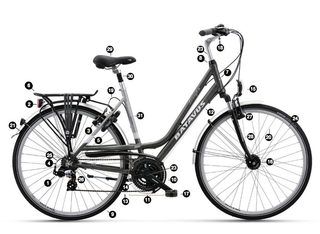 Achterderailleur
Doet de ketting van kettingblad wisselen wanneer je een versnelling hoger of lager schakelt.
Achterlicht
Geeft je zichtbaarheid achteraan.
Achterrem
Nodig om te kunnen vertragen of tot stilstand te komen.
Cassette
Hier kies je een zwaardere of lichtere versnelling.
Achtervork
Het achterste gedeelte van het fietsframe.
Bagagedrager
Handig om je rug te ontlasten als je spullen wilt vervoeren.
Balhoofdbuis
Verbindt de bovenbuis met de schuine buis van het fietsframe en bepaalt hoe rechtop je kunt zitten.
Balhoofdset
Nodig om naar links of rechts te draaien.
Band
Onmisbaar voor comfort en grip op de weg.
Crankarm
Werkt als hefboom bij elke trapomwenteling en zorgt voor krachtoverbrenging.
Crankset
Het geheel van kettingbladen en crankarmen, oftewel de verbinding tussen de trapas en de pedalen.
Schuine buis
De verbinding tussen de balhoofdbuis en de zitbuis, gemaakt van aluminium, staal, titanium of carbon.
Ketting
Drijft het achterwiel aan en zorgt er zo voor dat je vooruit komt.
Kettingblad
Eén, twee of drie bladen vooraan, die vooral bergop een wereld van verschil betekenen.
Koplamp
Zien en gezien worden, nodig voor je eigen veiligheid!
Wielnaaf
Essentieel om het wiel te laten draaien.
Pedaal
Zonder krijg je een loopfiets.
Remgreep/schakelaar
Om te remmen of van versnelling te wisselen.
Remkabel
De verbinding tussen de rem aan het wiel en de remgreep.
Spaken
Houden het wiel bij elkaar.
Spatbord
Houdt opspattend vuil tegen en houdt je lekker droog bij regenweer.
Stuurpen
Niet enkel een verbindingsonderdeel tussen vork en stuur, maar ook een bepalende factor voor je fietshouding.
Trapas
Krijgt alle kracht die je op de pedalen zet te verwerken en is zo een centraal draaiend onderdeel.
Velgen
Samen met de spaken en de wielnaaf vormen ze een wiel en zijn ze het draagvlak voor de band.
Versnellingskabel
Bij het schakelen zorgt deze dat de achterderailleur zal bewegen en verander je van versnelling.
Voorderailleur
Doet de ketting van kettingblad wisselen wanneer je een versnelling hoger of lager schakelt.
Voorrem
Doet je voorwiel afremmen. Best niet te hard, zodat je niet overkop gaat!
Voorvork
Verbinding tussen wiel en frame, keuze uit geveerd of vast.
Zadel
Het meest persoonlijke item op de fiets door de vele vormen, breedtes en diktes.
Zadelpen
Kan je hoger of lager zetten om op de juiste hoogte te zitten.
Zitbuis
De centrale buis in het midden van het frame en daardoor de dragende factor.