Hou het koel vs fiets je warm
Hou het koel vs fiets je warm
Als er één ding voorspelbaar is in ons land, dan is het de onvoorspelbaarheid van het weer. Wie het hele jaar door wil genieten van zijn fiets, doet er dan ook goed aan om voorzien te zijn op zowel koude als warme dagen. Met deze tips zit je ook dan comfortabel in het zadel.


Tips voor koud weer: fiets je warm

Drielagensysteem, drielagensysteem, drielagensysteem. We kunnen het niet genoeg herhalen. Door dit systeem ook toe te passen op je fietskledij, zorg je ervoor dat je lichaamstemperatuur steeds op peil blijft. Voeg daar nog een helm en eventueel een helmmuts aan toe, en de koude kan je onmogelijk nog te pakken krijgen.

Een lange fietsbroek komt uiteraard ook prima van pas, net als (gevoerde) winterschoenen of fietsschoenen met warme kousen en overschoenen.
 Wist-je-datje: Er bestaat ook zoiets als beschermende crème die je huid niet alleen beschermt tegen de koude maar ook opwarmt.

Wil je ook doorrijden bij extreme koude? Dan komen ski-accessoires zoals hand- of voetwarmers eveneens van pas. Ook handschoenen heb je van kort tot lang en warm tot heel warm. Voor een optimaal resultaat kun je ook hier met laagjes werken.

 Wist-je-datje: Het tussenseizoen is pas echt een uitdaging voor fietsers. Wegens vaak nog koud als je vertrekt maar een paar uur later alweer een stuk warmer. Opteer in dat geval voor arm- en beenstukken.

Tips voor warm weer: hou het koel

Bij warm weer is het vooral belangrijk dat je voldoende vocht opneemt. Je zweet meer dan gewoonlijk, verliest bijgevolg dan ook meer vocht dan gewoonlijk en dus is regelmatig van je dorstlesser drinken de boodschap.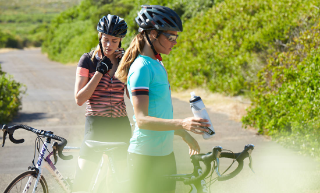 Wist-je-datje: Bij warm weer mag je ook je zoutopname niet uit het oog verliezen, kwestie van het zout dat je verliest bij het zweten te compenseren.

Warmte betekent ook dat er meer zonlicht op je kruin en ledematen zal schijnen, dus kun je je daar meteen ook maar beter tegen beschermen. En wel door lichte kledij in lichte kleuren te dragen. Let erop dat je kledij UV-bestendig is.

Wist-je-datje: Kies een helm in een lichte kleur. Daar waar zwart de zon aantrekt, weerkaatst wit de zon.

Het is allesbehalve aan te raden om je banden op maximale druk te zetten bij warm weer en felle zon. Hitte betekent uitzetten en dus ontploffingsgevaar! E-bikers houden hun accu ook beter uit de zon wegens niet bevorderlijk voor de accucellen.

 Wist-je-datje: Ook de locatiekeuze van je ritjes kan een factor zijn op een warme dag. Een ritje in bosrijke omgeving is een pak verkoelender dan een in de polders.