Hoe kies je het perfecte fietsframe?
Hoe kies je het perfecte fietsframe?
Een goed frame is het kloppend hart van je fiets. Zeker bij mountainbikes en racefietsen is het uiterst belangrijk dat het perfect bij je lichaam past. Maar waar moet je op letten als je een frame kiest?

Comfort, gewicht en stijfheid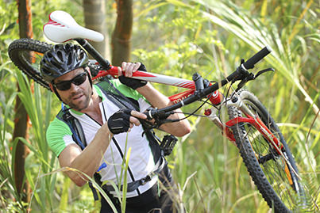 Deze drie factoren bepalen de eigenheid van het frame. Een comfortabel frame zal zoveel mogelijk oneffenheden in het wegdek wegfilteren, terwijl een licht frame als voordeel heeft dat je minder ballast moet meezeulen. Met een stijver kader haal je dan weer meer rendement uit je trapinspanning, omdat het minder meegeeft. Een fabrikant gaat meestal op zoek naar een goede mix van deze eigenschappen of één ervan heel erg benadrukken.

Het is erg belangrijk dat je een maat kiest in functie van je lichaamsbouw. Rijden op een fiets met de verkeerde maat voelt niet alleen onaangenaam, de kans dat je vroeg of laat een blessure oploopt is ook groter. Een zorgvuldig uitgemeten fietspositie voorkomt deze problemen.

Fietsframes worden meestal gemaakt van staal, aluminium, carbon en titanium. Allemaal hebben ze specifieke eigenschappen. Je keuze zal afhangen van je rijstijl, persoonlijke voorkeur enlichaamsbouw. Een racefiets met een stalen frame is het zwaarst, maar stevig en duurzaam. Aluminium is licht, duurzaam, relatief goedkoop en daarom ook een populaire keuze. Carbon en titanium zijn het lichtst. Je vindt ze doorgaans terug in de duurdere prijsklasse. Ze worden geroemd om hun lange levensduur en specifieke rijeigenschappen. Houd altijd rekening met je lichaamsgewicht als je een materiaal kiest. Met een licht tot gemiddeld gewicht kan je gerust kiezen voor een carbon of aluminium frame. Als je wat zwaarder bent, overweeg dan staal of titanium.

Besteed voldoende tijd aan je zoektocht. Met een slecht gekozen frame kost het meer moeite om vooruit te geraken, terwijl je met een passend exemplaar bijna op wolkjes fietst. Let wel, comfort, gewicht en stijfheid zijn persoons- en gebruiksgebonden. Onze medewerkers in de Bike Stores staan je graag met professioneel advies bij.
Lees ook: