Fietsreizen, zo doe je dat
Fietsreizen: zo doe je dat!
De fiets is een perfect vervoermiddel om te reizen, of het nu om een weekendje weg of een trip van enkele weken gaat. Je volgt een trager ritme en geniet van ongekende vrijheid. Met deze kneepjes wordt de voorbereiding van je fietsvakantie kinderspel.

Het belangrijkste element van een zorgeloze fietsvakantie is je tweewieler. Het aanbod is groot en veel hangt af van jouw persoonlijke voorkeur. Profrenners geven de voorkeur aan de lichtste onderdelen, maar een vakantiefietser is meer gebaat met duurzame materialen. Zorg er ook voor dat je fiets perfect op jouw maat wordt afgesteld.
Hou hier zeker rekening mee bij het kiezen van je fiets:
Comfortabel zadel
Degelijke wielen (extra spaken en een dubbelwandige velg)
Lichtlopende banden met een antileklaag
Betrouwbare remmen
Aangepaste versnellingen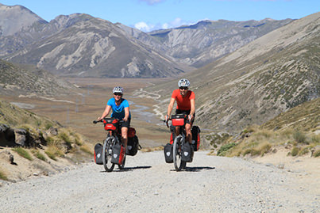 Wat neem ik allemaal mee?

Hoe minder bagage, hoe vlotter en lichter je kunt fietsen. Bekijk hier de gedetailleerde packlist. Kies voor waterdichte fietstassen voor- en achteraan op je bagagedrager of een fietskar om je materiaal te vervoeren.
Een handige inpaktip: deel je fietstassen in in kamers: zo houd je al je slaapspullen bij elkaar, evenals je kook- en eetgerei en vind je alles meteen terug.
Wie niet in de middle of nowhere vruchteloos op zoek wil gaan naar een fietsenmaker, heeft best enkele basisherstellingen onder de knie. Een reparatiekit mag dan ook niet ontbreken in je bagage:
Bandenreparatieset
Kettingolie
Snelbindertjes
Tape
Superlijm
Hoe raak ik op mijn bestemming?

Nadat de bestemming geprikt is, kan je aan de slag met een online routeprogramma zoals bikeroutetoaster.com. Zo krijg je een idee over het aantal kilometers en weet je of het uitgestippelde plan al dan niet haalbaar is. Een vaste reisgezel voor onderweg, naast goede kaarten van de regio, is ook een fietsgps.