Fiets het beste uit je lijf
Of je nu regelmatig fietst of niet, je merkt al snel dat de ene fiets je beter past dan de andere. Maar hoe komt dat? Trainingscentrum Energy Lab geeft antwoord op die vraag. Daar kan je als atleet (vooral recreatievelingen, maar ook topsporters) terecht als je op weg wil naar efficientere trainingen en een betere lichaamsbeweging voor je specifieke sporttak. Wij deden de fietstest.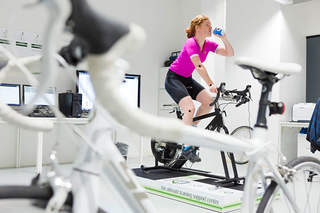 De instelmogelijkheden bij een fiets zijn enorm, dus duurt het ook wel een tijdje vooraleer die optimaal afgesteld is. Elk lichaam is anders. Daarom moeten fietsers ook onder de scanner, als ze hun fiets willen laten afstellen. Zo kunnen alle kleine défauts opgespoord worden, wat nodig is om blessures te voorkomen. Op basis van die analyses krijg je als klant ook aangepaste oefeningen mee, zo kan je bepaalde spieren extra trainen, zodat kleine foutjes kunnen worden opgevangen.
Ondertussen mag je ook een ritje maken op de labofiets, die een perfecte kopie is van je eigen fiets. Elke hoek en elke beweging wordt met behulp van elektrodenopgemeten. Die gegevens worden afgetoest aan de maatstaven van de bewegingsleer, en op basis daarvan wordt de labofietshelemaal bijgesteld.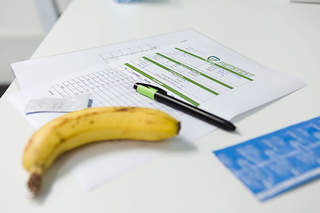 Een optimaal afgestelde fiets is niet genoeg om het maximum uit je trainingen te halen. Daarom heb je ook een nauwkeurig beeld nodig van jeconditie. Die conditie test Energy Lab natuurlijk ook, dat doet je op de (inmiddels optimaal afgestelde) labofiets te laten rijden en deweerstand waarmee je fietst elke vijf minuten te laten stijgen. Bij elke stap wordt een staaltjebloed geprikt uit je oorlel om je melkzuurevolutie te meten. Als je een grote inspanning doet, gaat je melkzuurproductie in stijgende lijn.
Zo'n melkzuurcurve toont twee keer een buigpunt: tot aan het eerste punt is er weinig melkzuurproductie en haal je de meeste energie uit vetverbranding. Het is belangrijk om dat buigpunt zo lang mogelijk terekken, want zodra je daar over gaat, begin je suikers te verbranden en die voorraad raakt sneller op. Bij het tweede buigpunt verbrand je vrijwel geen vetten meer, enkel nog suikers. Dan heb je nog een goed uur tijd voor je de handdoek in de ring kunt werpen.
Tijdens de conditietest linkt Energy Lab die buigpunten aan je hartslag en aan je subjectieve gevoel van inspanning, waardoor je perfect weet in welke zones je moet trainen om specifieke vooruitgang te boeken:basisconditie of uithouding?