Ter land, ter zee en voetjes in de lucht
Ter land, ter zee en voetjes in de lucht

Een sandaal is zowat het meest multifunctionele schoeisel dat er bestaat: draag deze lichte stappers op de camping, tijdens een citytrip of wandeling, op het strand en zelfs in het water. In deze situaties voelen je sandalen zich pas echt in hun element.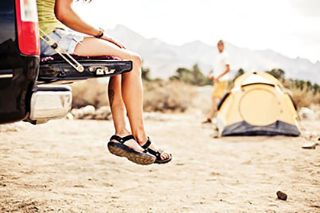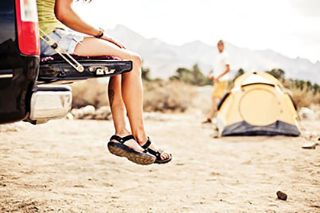 Sandalen waarmee je het hele land kunt afschuimen zonder pijnlijke voeten, wie droomt er niet van? Wie in warme omstandigheden een stevige wandeling maakt, investeert best in sandalen die zijn uitgerust met een slijtvaste zool met extra grip, een schokabsorberende hiel (shock pad) en een gewelfde voetzool. Sommige modellen hebben een extra teen- en hielbescherming zodat ook rotsachtig terrein je niet kan tegenhouden.

Wie niet offroad wandelt, maar alleen op droog en effen terrein loopt, heeft voldoende aan een basissandaal. Deze heeft een lichtere zool, geen shock pad en aan de hiel zit enkel een zachte klittenbandafwerking. Bovendien neemt dit type sandaal weinig volume in: ideaal voor lichte citytrips, campingavonturen en strandvakanties. Wedden dat je je geruster voelt met sandalen aan als je een hete strook zand moet trotseren of in het water riskeert op een zee-egel te trappen?

Hoewel je met de meeste sandalen probleemloos het water in kunt, bestaan er ook specifieke synthetische modellen. Die hebben een degelijke rubberzool en zijn dus geschikt om te dragen tijdens watersporten.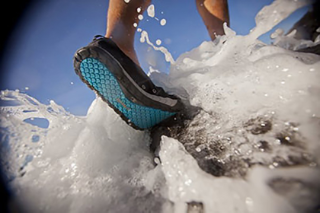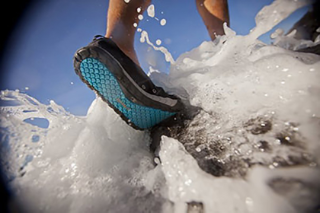 Let wel op met nubuckleer, dit slijt veel sneller in zout water.
Wie van plan is om rivieren te doorwaden moet ook aandacht hebben voor de grip van de zool. Spiderrubber biedt bijvoorbeeld extra grip wanneer het nat is.
Wie op canyoningtrip gaat, heeft echter geen sandalen maar nylon waterschoenen nodig, inclusief gesloten tip.