EHBO à la playa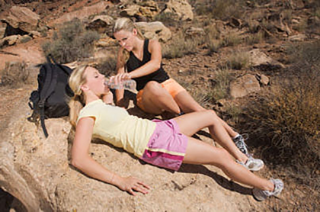 Vakantiekwaaltjes kunnen je reis letterlijk verzieken. Vertrouw je de plaatselijke arts niet? Met deze EHBO-tips verzorg je een zonneslag, kwallensteek en prik van de zee-egel voortaan zelf.

Langdurig verblijf in de zon kan je een zonneslag bezorgen. Bescherm je daarom steeds met zonnecrème, een pet of hoedje en blijf tijdens de middaguren in de schaduw. Voel je je toch koortsig of misselijk of heb je hoofdpijn volg dan deze raad op:

Ga meteen uit de zon zitten.
Maak spannende kleding los.
Leg koude kompressen of natte doeken op je voorhoofd en in je liesstreek.
Drink water met een beetje zout (2 theelepels per 0,20 l) of een ORS-oplossing.
Hou je ademhaling en hartslag goed in de gaten.
Meet ook regelmatig je lichaamstemperatuur. Die moet dalen tot het normale niveau van 36 à 37°C.
Verwittig gespecialiseerde hulp als de symptomen aanhouden.
Eerste hulp bij een kwallensteek
De meeste kwallen zijn onschadelijk, maar wie tijdens het zwemmen toch in aanraking komt met een stekend exemplaar raakt zo snel van de jeuk af:

Spoel de gestoken plek af met zeewater. Zoet water kan de giftige netelcellen activeren.
Verwijder eventuele restjes van de tentakels met een handschoen of pincet.
Maak de gestoken plek schoon met azijn.
Om zeker te zijn dat alle netelcellen verdwenen zijn, kun je de gestoken plek ook scheren met scheerschuim en een mesje.
Smeer tot slot nog wat jeukstillende zalf op de plek.
Zee-egels hebben lange, scherpe stekels met een giflaagje. Ze verschuilen zich aan rotskusten net onder de waterlijn en zijn vaak goed gecamoufleerd. Zo verzorg je een prikwonde:

Haal de stekels zo snel mogelijk weg.
De stekels die niet diep in de huid zitten, kun je makkelijk verwijderen met een pincet na een azijnbad.
Als het je zelf niet lukt, verminder dan de pijn door het aangetaste lichaamsdeel in heet water te dompelen en raadpleeg daarna de spoeddienst. Het gif van de zee-egel verliest bij hitte immers zijn werkzaamheid.
Het is al geruime tijd een bekend gegeven dat een lezer, tijdens het bekijken van de layout van een pagina, afgeleid wordt door de tekstuele inhoud.